Please follow and like us: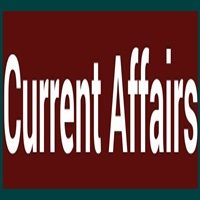 One Liner Current Affairs- February 28, 2021
One Liner Current Affairs help the students in the various competitive exams.
Presenting herewith some of the current affairs-
---
1- China has surpassed the United States to become the world's largest foreign direct investment destination, according to the United Nations Conference on Trade and Development.
2-The minimum support price (MSP) is the price of agricultural products set by the Indian government.
3-The minimum support price (MSP) is determined based on the recommendations of the Agricultural Cost and Price Committee (CACP).
4-The Economic Survey refers to the annual flagship document that reviews the development of the Indian economy.
5-Currently, Krishnamurthy Subramanian is the Chief Economic Advisor (CEA) of India.
6-The International Monetary Fund (IMF) has released the World Economic Outlook 2021 report.
7-India's economy is more likely to grow by 11.5% in 2021 as opposed to the 8.8 percent growth that was predicted in October 2020.
8-The world economic growth in 2022 is more likely to be expected by 4.2%.
9- According to the World Economic Outlook 2021 report, the United States will grow from 3.1% in 2020 to 5.1% in 2021.
10-CBDC stands for central bank digital currency. It is legal tender and is a central bank liability in digital form.
11-The Union Cabinet clears the policy of privatization of public sector enterprises. This policy is part of the Aatmanirbhar Bharat
package announced by the Minister of Finance in May 2020.
12-The Ministry of Investment and Public Asset Management has grouped 18 departments as strategic departments.
13-Public sector enterprises (PSU) is owned by the Union government or one of the state or regional governments.
14-The Ministry of Heavy Industry and Public Enterprise manages Public sector enterprises (PSU).
15-By 1951, there were only five companies in the public. By March 2019, this number has increased to 348.
16- The fiscal deficit refers to the gap between central government expenditure and revenue.
17- A memorandum of understanding was signed between India and Japan on specified skilled workers.
18-In 2015, India had agreed to introduce Japan's high-speed bullet train Shinkansen system.
19-India and Japan announced to form the 'Act East Forum'. It will help to expand cooperation between India in the Northeast region and Japan.
20-India formally serves as a nonpermanent member of the UN Security Council for a two-year term together with Norway, Mexico, Ireland and Kenya.
Please follow and like us: