Please follow and like us: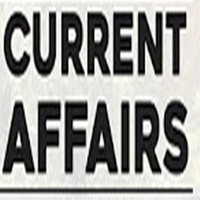 One Liner Current Affairs- 2021
One Liner Current Affairs are very useful for competitive exams.
Presenting herewith some of the current affairs.
1- After six states of Andhra Pradesh, Karnataka, Madhya Pradesh, Rajasthan, Tamil Nadu and Telangana, it is Odisha, which became the seventh state to complete the ease of business reforms.
2-PRF stands for Project Readiness Financing.
3-Asian Development Bank (ADB) is established on December 19, 1966.
4- The headquarters of ADB are located in Mandaluyong, Ortigas Center, Metro Manila, Philippines.
5-The International Financial Services Center Authority (IFSCA) has become an Associate Member of the International Organization of Securities Commissions(IOSCO)
6-Vietnam is the world's third-largest rice exporter. Vietnam is the largest producer and exporter of dragon fruit.
7- The five states namely Arunachal Pradesh, Nagaland, Manipur, Mizoram, and Sikkim have no income gap due to the implementation of GST.
8-The Reserve Bank of India- Digital Payment Index(DPI) contains five main parameters. They are Payment Enablers, Supply-side factors, Payment Infrastructure Demand-side factors Payment Performance and Consumer Centricity.
9-The Export-Import Bank of India was established in 1982. It will help providing financing, facilitation and promotion of trade in India.
10-MSMEs stands for Micro Small and Medium Enterprises.
11-PMGKY stands for Pradhan Mantri Garib Kalyan Yojana.
12-The Gujarat government is going to apply for a patent for dragon fruit under the name Kamalam.
13-The name of the BJP headquarters in Gujarat is Kamalam.
14-The Cabinet Committee for Economic Affairs (CCEA) has approved the minimum support price (MSP) for milled copra and ball copra.
15-A total of 23 commodities are covered by the Minimum Support Price. They are cereals like Paddy, Maize, Sorghum, Wheat, Barley, Pearl millet and Ragi.
ii) Pulses- Chickpea or Gram, Moong, Tur, Urad and Lentil.
iii)Oil seeds- Peanut, Soyabean, Sunflower, Rapeseed, Sesame, Safflower, Niger seed.
iv)Commercial Crops- Copra, Sugarcane, Cotton, and Raw jute.
16-The Economic Survey is issued by the Ministry of Economic Affairs of the Ministry of Finance.
17-The UK has abolished the 5% Value Added Tax (VAT) on women's sanitary products, commonly referred to as the tampon tax.
18-According to the agreement, qualified Indian workers can work in 14 specific sectors in Japan.
19-On June 17, 2020, India was elected to the Security Council with a total of 192 votes and 184.
20-India to serve as a permanent member of the UN Security Council in August 2021.
Please follow and like us: