Please follow and like us:
National current affairs- March 19, 2021
Students and other candidates who have been preparing for the various competitive examinations can take the help of these following study materials.
---
1- Congress General Secretary Priyanka Gandhi Vadra took a jibe at BJP leaders over ripped jeans controversy.
2-The Education Department of Gujarat government has asked to shut down Offline education in 8 municipal corporations in Gujarat.
3-Karnataka Home Minister Basavaraj Bommai said that the state government is mulling to ban hookah bars.
4-The Delhi BJP has asked the chairperson of Delhi Commission of Women (DCW), Swati Maliwal to question Chief Minister Arvind Kejriwal asking why there is no woman in his cabinet.
5-A special MP-MLA court has sentenced ex-MP Annu Tandon to 2 yrs in jail in a case of train blocking in Unnao during a political agitation in 2017.
6-The Inspector General of Police, Prayagraj(UP), has banned loudspeakers from 10 p.m. to 6 a.m.
7-The Andhra Pradesh government has announced to vaccinate all the legislators and Assembly staff for Covid-19 for two days on Wednesday and Thursday.
8-The Nepalese security agencies yet to remove encroachments on no-man's land with the sensitive Uttarakhand-Nepal border.
9- The Andhra Pradesh government has sought Rs 2,000 crore more from the National Bank of Agriculture and Rural Development (NABARD) for schools under the Nadu-Nedu (then and now) scheme.
10-SUV case fallout: Nationalist Congress Party President Sharad Pawar-Maharashtra Home Minister Anil Deshmukh meet in New Delhi.
National current affairs
11-The Delhi High Court has refused to stay Enforcement Directorate (ED) summons issued to former Jammu and Kashmir Chief Minister and Peoples Democratic Party (PDP) Chief Mehbooba Mufti.
12-The Rashtriya Swayamsevak Sangh (RSS) said Ram Mandir work will complete only when nation binds together.
13-Andhra Pradesh Industries Minister Mekapati Goutham Reddy sought centre's support for logistics park.
14-Senior Trinamool Congress leader Madan Mitra has appeared before the Enforcement Directorate (ED) in Kolkata in Saradha case.
15-Bank fraud case: The Central Bureau of Investigation (CBI) has carried out searches at Indian Technometal Company premises.
16-The Aam Aadmi Party (AAP)-led Delhi government has alleged that Centre has put ration doorstep delivery scheme on hold.
17- Punjab Chief Minister Amarinder Singh has asked Pakistan Chief of Army Staff, General Qamar Javed Bajwa to control ISI before talk on stability.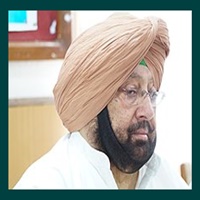 18-Rashtriya Swayamsevak Sangh Sah Sarkaryavah Manmohan Vaidya said that RSS has been planning to go mega at grassroot-level before 2024.
19-Food Supplies and Consumer Welfare Minister Ranendra Pratap Swain said that the Odisha government assured to procure paddy from registered farmers.
20- The BJP-led Gujarat government has admitted in the state assembly that 31% of the Public Distribution Shops (PDS) shops found with irregularities in Gujarat.
National current affairs
21-Rebel YSRCP Narasapuram MP Kanumuru Raghu Ramakrishna Raju met President Ram Nath Kovind alleging fake cases from own party.
22-Tripura Deputy Chief Minister Jishnu Dev Varma has presented a Rs 22,724.50 crore tax-free Budget for 2021-22.
23-PMS- Portfolio management scheme
ATS- Anti Terrorism Squad
24- The Telangana Remote Sensing Application Centre (TRAC) has developed a plant growth monitoring system.
25- Actor turned Makkal Needhi Maiam (MNM) President Kamal Haasan has promised mono rails in all Tamil Nadu districts.
26-Bengaluru has become the first city after Nagpur to elect new Sarkaryavah(General Secretary).
27-UP today claims India's best state in Public Distribution System(PDS) transparency.
28-The Russian Direct Investment Fund (RDIF) and Indian pharmaceutical firm Stelis Biopharma joined hands to supply 200M Sputnik V vaccine doses.
29-World Sleep Day is on March 19th.
30-Uttarakhand Chief Minister Tirath Singh Rawat has arrived in New Delhi for the first time after becoming Uttarakhand CM.
National current affairs
31- Delhi Chief Minister Arvind Kejriwal to address a kisan panchayat in Jind district of Haryana on April 4.
32-Haryana Chief Minister Manohar Lal Khattar said the Covid epicentre shifted from the NCR region to GT Road districts.
33- Under 'Operation Flush Out', more than 10,330 intensive searches were conducted in Rajasthan.
34-Union Railway Minister Piyush Goyal has asked officials to ensure passenger safety, deter smokers.
35- Mumbai Chief Minister Uddhav Thackeray hinted at lockdown option as Mumbai recorded 3K Covid cases.
36-Congress leader Rahul Gandhi said Congress will repeal the Citizenship (Amendment) Act (CAA).
37-The National Investigation Agency (NIA) team met Mumbai Police Commissioner Hemant Nagrale in SUV case.
38-The Andhra Pradesh High Court has temporarily stayed CID probe against the former Chief Minister N. Chandrababu Naidu and education baron P. Narayana for four weeks.
39-Delhi Lieutenant Governor Anil Baijal has unveiled e-book on Delhi's biodiversity parks.
40-Odisha CM Naveen Patnaik has launched unified emergency helpline number '112'.
41-Delhi Environment Minister Gopal Rai has called for collective efforts to tackle stubble burning.
42- Kerala's Pinarayi Vijayan-led LDF government has promised pension for housewives, benchmark price for rubber.
43-The Rail Land Development Authority (RLDA) has floated a request for proposal (RFQ) for leasing land parcel for residential development.
Please follow and like us: