Please follow and like us:
Uttar Pradesh Current Affairs- January 3, 2022
Watch some important aspects of Uttar Pradesh Current Affairs
1- Prime Minister Narendra Modi lay the groundwork for the Major Dhyan Chand Sports University in Meerut on Sunday (January 2, 2022). (Uttar Pradesh). The prime minister was joined by Uttar Pradesh Governor Anandiben Patel and Chief Minister Yogi Adityanath.
2-The Major Dhyan Chand Sports University will be able to train 1080 athletes, 540 of whom will be female and 540 of whom will be male.
3-Last month, Prime Minister Narendra Modi inaugurated the first phase of the Kashi Vishwanath Dham, a project that spans five lakh square feet and connects the temple grounds to the River Ganga while also offering pilgrims with a variety of amenities.
4-The Augurnath temple is located in Meerut, Uttar Pradesh.
5-In order to entice farmers, Samajwadi Party head Akhilesh Yadav stated that if his party is elected, it will give free energy for irrigation purposes.
Uttar Pradesh Current Affairs
6-Uttar Pradesh will hold elections for a 403-member House early this year.
Yogi Adityanath, Chief Minister of Uttar Pradesh, stated on Friday that the Sonia Gandhi-led party is a "trouble" for the country and the source of chaos and corruption.
8-The Uttar Pradesh government renamed the Jhansi Railway Station the 'Veerangana Laxmibai Railway Station.' Jhansi station's new name has been chosen in honour of Rani Laxmibai.
9-The decision by Uttar Pradesh to announce a new name for Jhansi Railway Station was made to enhance tourism in the area, and according to the state administration, it is also anticipated to help the state's Bundelkhand region.
10-While the Uttar Pradesh government renamed Allahabad Prayagraj, Mirzapur, Sultanpur, Firozabad, Aligarh, and Manipuri are also on the list for renaming. Along with them, requests to modify the names of Bastipur and Ghazipur have been made.
Uttar Pradesh Current Affairs
11-The Allahabad High Court on Thursday asked the Election Commission of India to immediately ban election rallies and, if feasible, postpone the Assembly elections for 1-2 months.
The panel of Justice Shekhar Kumar Yadav also advised Prime Minister Narendra Modi to consider prohibiting electoral gatherings.
12=In Meerut and Muzaffarnagar, Uttar Pradesh, Union Minister of Road, Transport and Highways Nitin Gadkari inaugurated and lay the foundation stone for 240 km of National Highway projects valued over Rs. 9,000 crores.
Uttar Pradesh Current Affairs
13-Union Minister Nitin Gadkari said during the inauguration and laying of the foundation stone for six National Highway Projects in Meerut, totaling Rs. 8,364 crores, that the project will help farmers in the region get their produce to market, resulting in economic upliftment.
14-There will be seven internet exchange nodes in Lucknow, Agra, Meerut, Kanpur, Prayagraj, Gorakhpur, and Varanasi.
15-Until recently, Gautam Buddha Nagar in Uttar Pradesh had only one internet exchange node operational.
Uttar Pradesh Current Affairs
16-On December 23, 2021, Prime Minister Modi will unveil numerous development projects totaling over Rs. 850 crores in Varanasi.
17- Prime Minister Narendra Modi dedicates 22 development projects totaling over Rs 870 crores in his parliamentary district.
18- He also creates the groundwork for the 'Banas Dairy Sankul' and distributes the rural residential rights record 'Gharauni.'
The Banas Dairy Sankul is located on 30 acres of land in the Uttar Pradesh State Industrial Development Authority Food Park in Varanasi.
19-Prime Minister Modi recently visited Prayagraj, Uttar Pradesh, to take part in a first-of-its-kind event aimed at empowering women in the region.
He put Rs. 1,000 crores into the bank accounts of Self-Help Groups and spoke to the public at the commencement of the 'Kanya Sumangala Yojana.'
20-The cash was transferred by PM Modi during his visit to Prayagraj under the Deendayal Antyodaya Yojana-National Rural Livelihood Mission (DAY-NRLM).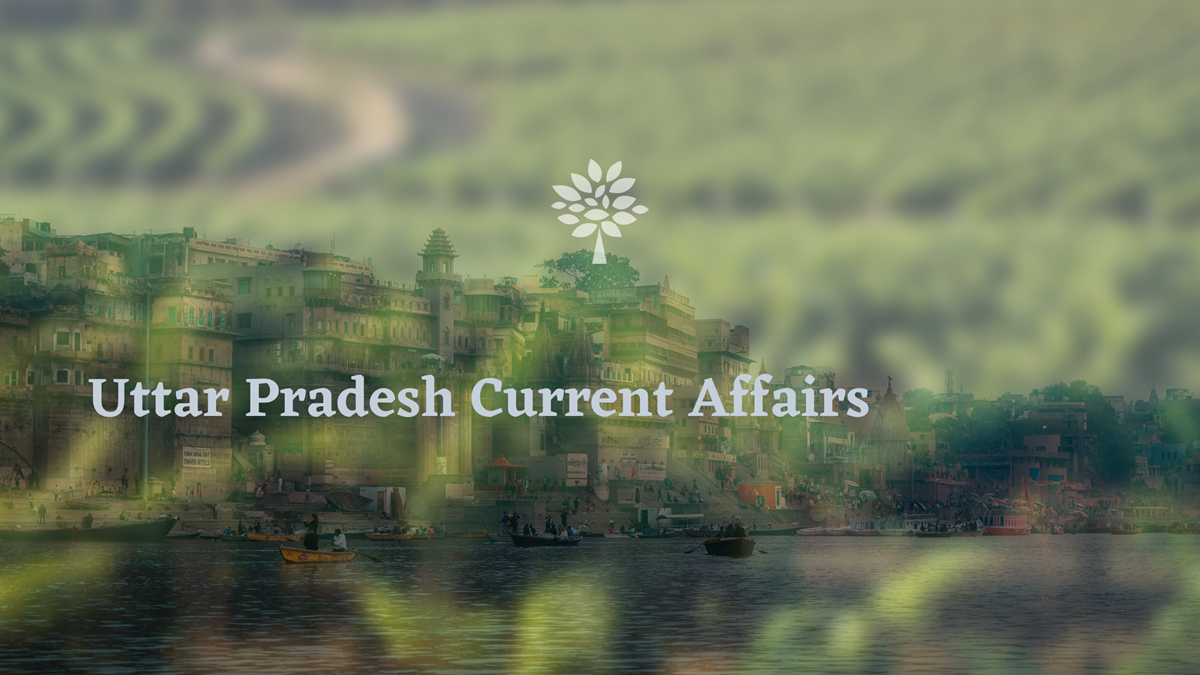 Please follow and like us: