Please follow and like us:
Haryana GK- Dec 13, 2022
1-Punjab Chief Minister Bhagwant Mann issued a letter to Chandigarh Administrator and Governor Banwari Lal Purohit expressing displeasure over the dismissal of a Punjab-cadre IPS officer from the position of Senior Superintendent of Police.
2-The Municipal Corporation of Gurugram (MCGannouncement )'s to the public regarding the "destruction" of unclaimed canines has caused controversy.
3-For areas under its authority, MCG has released registration forms for providing licences for pet dogs. The Sector-34 MCG office is where the forms can be obtained.
Pet owners must pay a registration cost of Rs 500.
Haryana GK
4-In three Gurugram villages—Damdama, Khedla, and Abhaypur—a 500-acre plot of land would be turned into a biodiversity park and lake.
5-The young Shubman Gill is developing extremely nicely in his career and should be a strong contender to open for the "Men in Blue" in the 2023 ODI World Cup at home, according to former India all-rounder Yuvraj Singh on Monday (Gurugram).
6- On Monday, Manohar Lal Khattar, the chief minister of Haryana, asked the lawmakers to submit their recommendations and thoughts for the upcoming state budget.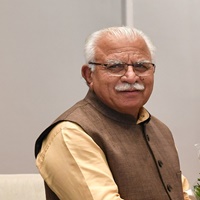 Haryana GK
According to Khattar, the legislators should provide the list of tasks that need to be completed in their respective jurisdictions as well as their requests and proposals that can be incorporated into the budget.
7-The State Vigilance Bureau's Gurugram division has detained local leader and builder Vashisht Kumar Goyal and booked HSVP employees for alleged fraud in the company's commercial property in Sector 23-23A of the district.
8-Manohar Lal Khattar, the chief minister of Haryana, was present at the swearing-in ceremony of the elected members of the village-level third tier of government on Saturday as part of his campaign to commence sessions of Panchayati Raj Institutions on the model of the legislative assembly.
Haryana GK
9-Prime Minister Narendra Modi and the Haryana administration are wholly dedicated to rural development, according to Chief Minister Manohar Lal Khattar.
10-In 2015, the Haryana state government made the decision to change the Panchayati Raj Act in order to create an educated panchayat. The administration fought for this decision all the way to the Supreme Court. The Supreme Court declared it legal and encouraged other states to take this course.
Watch for more current affairs here
Watch for gk and other current affairs, here
Watch video news of India and the world, here
Please follow and like us: